AJR - Milan
17/10/2022 - 8:30 pm - 11:55 pm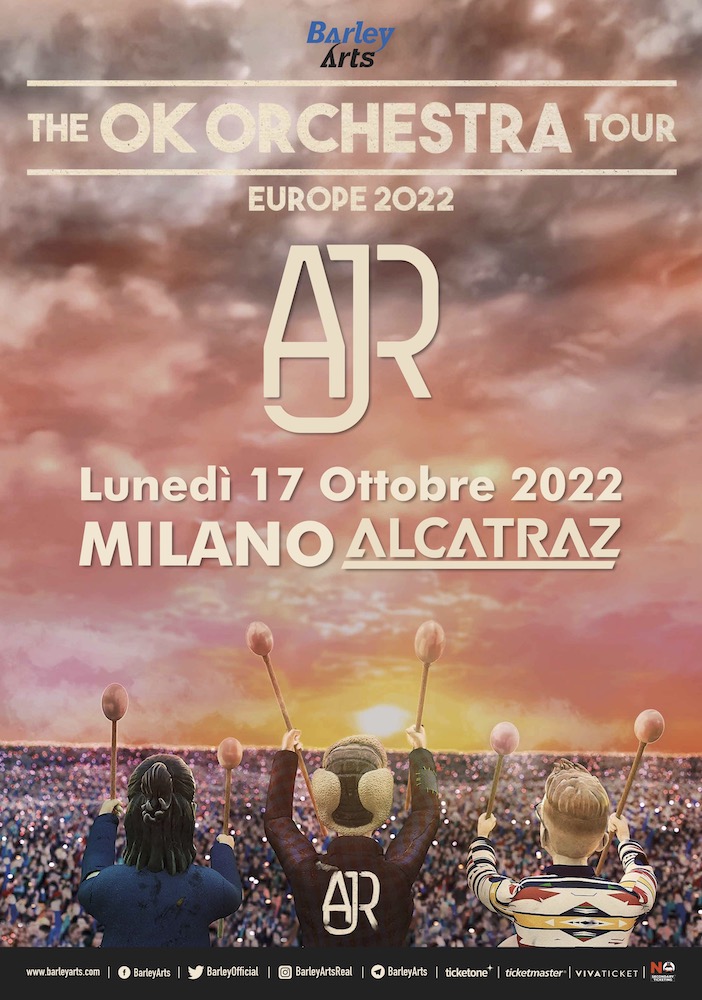 Brothers land in Italy for the first time Adam, Jack e Ryan Met - in art AJR - for asingle date that will not leave fans who have been waiting for them for a long time disappointed: Monday 17 October 2022 at Alcatraz in Milan. I tickets will be available through aexclusive presale via the Spotify of the band from tomorrow, 21 September, while the sales generals will open on the circuits Ticketmaster, Ticketone e Vivaticket at 10 a.m. on Friday 24 September. Be wary of unofficial channels!
It could be the beginning of a fairy tale or the plot of a 1980s film: three brothers form a band, write, produce and record music in their living room and end up entering a magical world unlike anything else out there. Those brothers formed the indie pop trio AJR and the magical world is their fourth album, OK Orchestra (AJR / BMG / Ultra / Black Butter, 2021). Brushstrokes of alternative rock, humming pop and Broadway grandeur enliven this technicolour world, while the band - Adam (bass, vocals), Jack (vocals, guitar) and Ryan (ukulele, piano, voice) - amplifies each element of their sound.
"With this work we really tried to create a world," says Ryan. "Our fanbase has grown steadily, album after album. Your support has made us more confident in inviting you into this new space. We really understood who we are, and the most diverse album we have ever recorded was born. It contains some of our happiest and most upbeat songs, as well as our saddest and angriest ones. We're expanding our frontiers. It's exciting."
Every move in their career has brought the AJR closer to this point. Reimagining what pop can be in the 21st century, the trio unassumingly came to prominence as a hit factory and became one of the best-known indie bands in the world. Since 2012, they have racked up billions of streams and a long string of multi-platinum singles and albums worldwide. Spotify has included Sober Up (with the participation of the frontman of Weezer Rivers Cuomo) in the list Best Rock Songs of the 2010swhile Apple Music included Weak between the Best Alt Songs of the 2010sand the line-up is listed among the 500 most listened to artists on Spotify.
AJR
The OK Orchestra Tour
Monday 17 October 2022
Milan, Alcatraz - via Valtellina, 25
Concerts start at 20:30
Single seat: € 22.00 + prev. / € 25.00 at the box office on the evening of the concert
Tickets available at Ticketmaster, Ticketone e Vivaticket. Be wary of unofficial sales channels!
Related Eventi