COUNTING CROWS + David Keenan - Padua
02/10/2022 - 9:15 pm - 11:55 pm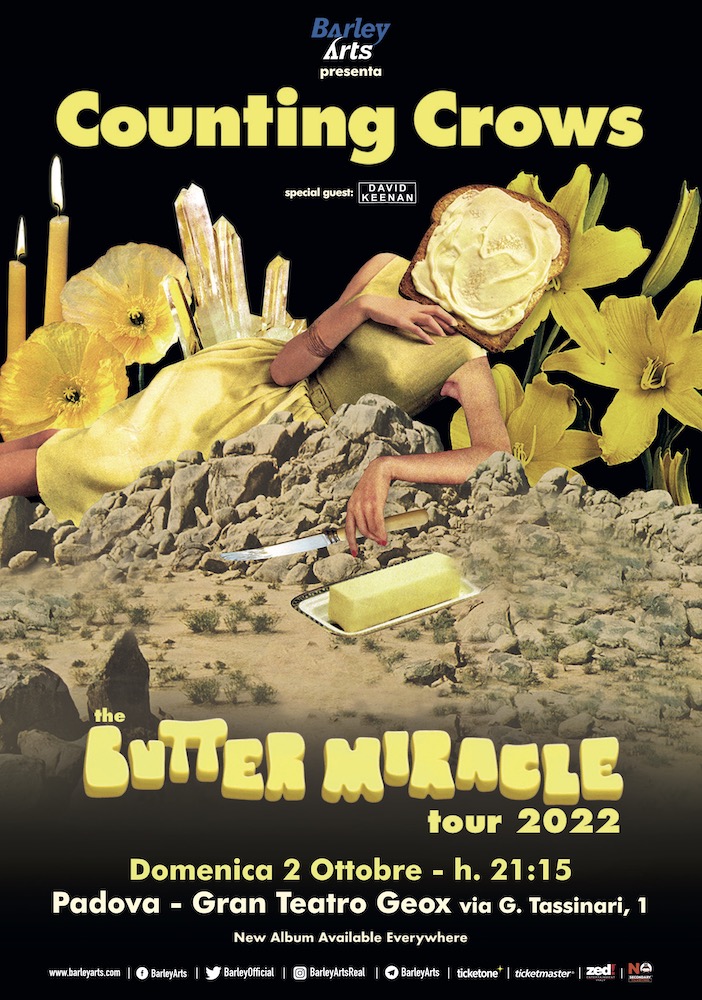 The Italian stages of the Butter Miracle Tour 2022 of Counting Crows will be enriched by an exceptional special guest. David Keenana popular singer-songwriter from Dundalk, Ireland, to open the concerts planned for Sunday 2 October at the Gran Teatro Geox in Padua, Tuesday 4 October at the Auditorium Parco della Musica in Rome, Thursday 6 October at Tuscany Hall in Florence e Friday 7 October at the Dal Verme Theatre in Milan.
I tickets are available on Ticketone (all dates) and Ticketmaster (Padua only).
The story of David Keenan seems almost too good to be true. During his childhood in the projects, he found an old Hofner guitar at his uncle's house and as a teenager he ran away from home to busk on the streets of Liverpool in search of his idol, the leader of the The La's Lee Mavers. Here he was discovered by a taxi driver, who filmed him in the back seat while he was singing a song he had written when he was just 15 years old. After his international success with the album A Beginner's Guide to Bravery (Rubyworks, 2020) decides to move to Paris and publishes a book of poems. In short, a story that could be used as the basis for a film script about a young adventurer who sets out to conquer the world with a head full of dreams and a heart full of songs.
In the last album WHAT THEN? (Rubyworks, 2021) the poet's eye shifts from the characters and stories on which he had previously focused to focus on himself. In the early 2020s, the dreams of Keenan He had travelled the world, released a highly acclaimed debut album and even appeared on stage at Dublin's Olympia Theatre for a sold-out show. Despite this, far from feeling satisfied, he broke up his band and moved to Paris at the invitation of the Irish Arts Centre. "Hanging back, both creatively and physically, is dangerous. It was time to do something new and take on new challenges," he says. Keenanon his move to France. "I was living in a dream, with my old typewriter and sipping cheap wine, and it was during that time that I planted the seeds that gave rise to this record. Wherever I went, I had my antennae ready to pick up sounds, scents and colours... And I filtered everything." Keenan So he found himself alone in Paris, intoxicated by the city, but with the feeling that he had lost himself in the wake of his own success. "Here I am in Paris, coming to terms with everything that happened, questioning my lack of an identity. I was saying to myself, 'Am I just a caricature of myself?' I was really disillusioned with everything. And the first step for me was to write about it in my songs. Writing about myself to try and process the situation. And that's when existentialism made its appearance, the one I'm referring to with the title WHAT THEN?."
The tour of the Counting Crows follows the release of Butter Miracle: Suite Onea four-piece, 19-minute suite released last summer on the label BMG. The Butter Miracle Tour will start in the United States and then continue in Europe with a long series of shows, including Italian ones. For Adam Duritz "It's great to be on the road in the US after all this time, but we're really excited to be coming back to Europe. We look forward to seeing everyone back at our concerts in 2022!".
Related Eventi