EDOARDO BENNATO - Pistoia
26/07/2020 - 9:30 pm - 11:55 pm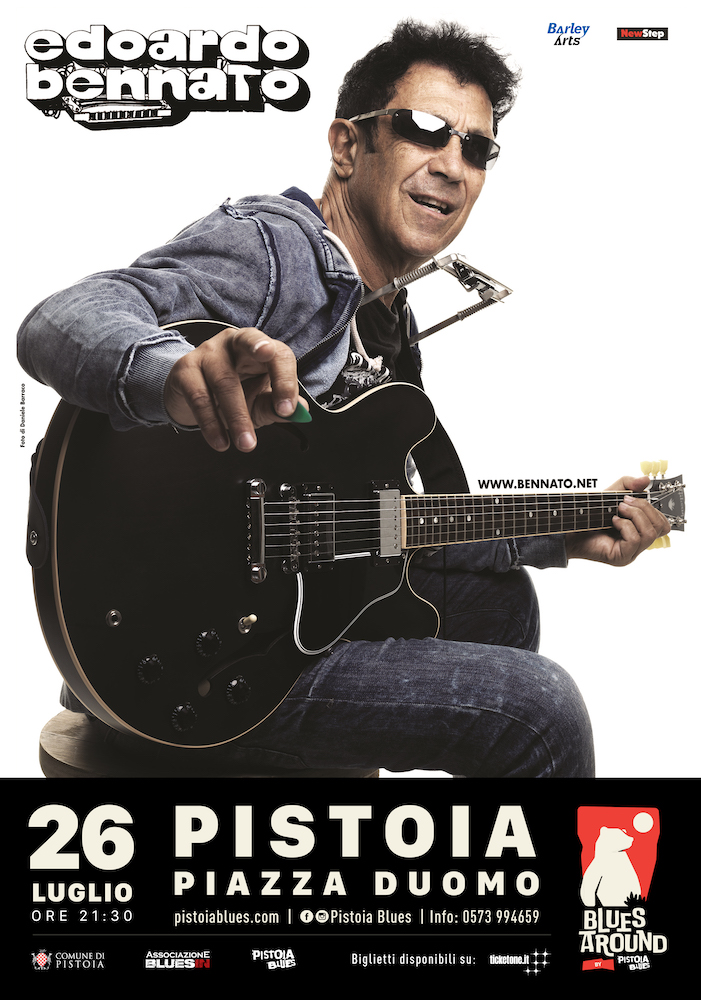 Music does not stop and Pistoia confirms itself as one of the capitals of Italian music with the project Blues Aroundwhich will bring great Italian music artists to the city throughout the summer. The absolute star of the evening of Sunday 26 July will be Edward Bennato with his signature rock and blues. The concert will be held in Piazza Cathedral starting at 21:30. Bennato will be accompanied by his historic band Gennaro Porcelli (guitar and vocals), Giuseppe Scarpato (guitar and vocals), Arduino Lopez (bass), Raffaele Lopez (piano), and Roberto Perrone (drums) for what will be the only Tuscan date for the summer. Tickets, costing €25 +dp, are available at Ticketone. The event is realised with the collaboration of New Step e Barley Arts.
Italian musician and singer-songwriter from Bagnoli, on the outskirts of Naples. After a musical experience spent in London as a busker in search of new sounds, he began performing as a one-man-band playing guitar, kazoo and pedal drum simultaneously, producing his own original musical tendency directly influenced by the great names in blues and rock - such as Neil Sedaka, Paul Anka, Jerry Lee Lewis, Chuck Berry, Ray Charles and Elvis Presley - and contaminated by accents from Mediterranean music. His debut album was 'Non farti cadere le braccia', released in 1973 and produced by Sandro Colombini; In 1977, with the album 'Burattino senza fili' - a series of songs evoking the famous fable of Pinocchio - he became the first Italian artist to make video-clips and later, thanks to a triumphant tour around Italy, he became the first national singer to score 80,000 spectators in the famous San Siro stadium in Milan; an event that would take him beyond the Italian borders with his first European tour. His concerts at Zurich's Hallenstadium, Vienna's Prater (1977), his appearances at the Montreux Jazz Festival (1987, 1992), New York City's Apollo Theatre (1987), the Highline Ballroom also in New York City (2010), Toronto's The Mod Club (2010) and Bucharest's Arcub Club (2010) are memorable. Among his countless hits, we would like to mention in this short biography the official song of the 1990 World Cup "Un'estate italiana", sung with Gianna Nannini; a song that remained in the hit parade for four months. In 2007, he signed the soundtrack of the theatrical musical Peter Pan in the Italian ver-sion; an incredible success with the public and critics that led the singer-songwriter to produce an English version of the famous songs from the album 'Sono solo canzonette'. In 2010, two record works were released: a completely unreleased lp entitled 'Le vie del rock sono infinite', in which the artist's unpredictability and acute observational gaze can be found, and 'MTV Storytellers', a collection of his best-known hits as well as new songs re-arranged and sung together with artists such as Morgan, Roy Paci, Giuliano Palma & The Bluebeaters, and the Finley. In September 2012, after the enormous success with the public and critics of 'Peter Pan the Musical', a repeat performance was staged at the Arena di Verona with Edoardo Bennato and his full band for a live performance that accompanied the entire show with duets between the actors and the singer. Today, with 27 albums to his credit, Edoardo Bennato is still in the midst of a creative phase. At the end of October 2015, his latest record 'Pronti a salpare' was released, an album rich in content; 14 tracks that once again manage to capture the society we live in with sarcasm and irony.
EDOARDO BENNATO
Sunday 26 July 2020
Pistoia, Blues Around - Piazza Duomo
Concerts start at 21:30
Ticket: € 25,00 + prev.
Tickets available at Ticketone
Related Eventi