BOUQUET OF MADNESS - Turin | SOLD OUT!!!
07/06/2022 @ 6:00 pm - 8:00 pm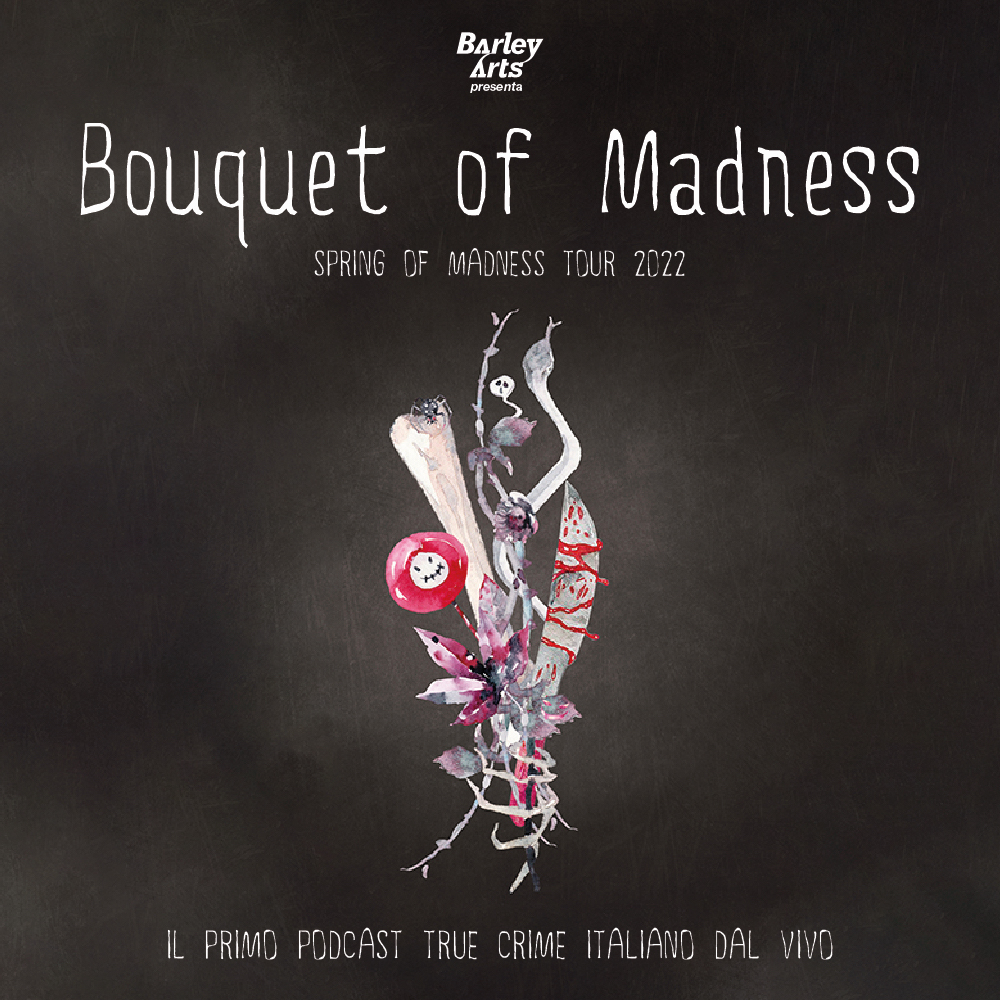 After the news of the start of collaboration with Bouquet of Madnesswe are pleased to announce the first appointments of the Spring of Madness tour 2022during which Federica e Martina will be busy touring Italy for record podcast episodes liveone of the most appreciated in the field of true crimein the company of their fans.
Monday 9 May h. 18:30 / h. 21:00 - Milan, Arci Bellezza
Wednesday 11 May h. 18:00 - Bologna, Locomotiv Club
Friday 27 May h. 21:00 - Naples, A' Mbasciata
Tuesday 7 June h. 18:00 - Turin, OFF TOPIC
Friday 17 June h. 21:00 - Galzignano Terme (PD), Venda Amphitheatre
I tickets for the shows are available at Says (Milan, Bologna and Galzignano Terme) and Eventbrite (Naples); pre-sales for the Turin performance will open on Says 10 a.m. on Friday 8 April. To access the Milan the ARCI cardand for that of Bologna that AICS.
Born from the friendship between Martina e Federica, Bouquet of Madness quickly won over Italian listeners, reaching the top of the charts of the best podcasts on major listening platforms. Bouquet of Madness - for friends BOM - talks about the strangest, most absurd and mysterious crime cases in Italy and around the world, without solutions but with lots of questions: in each episode Federica e Martina tell us two stories with a pleasant tinge of black humour, bringing to light the absurdities of human behaviour. To date Bouquet of Madnesshas 57 episodes, a spin-off - MiniBomavailable by subscription only on Spotify - as well as a series of participations in festivals and events including the Lucca Comics. Their way of telling stories and creating catchphrases such as the human labrador, i wafflers e beautiful* has gathered around them a fierce fan base of BOMers who is looking forward to meeting them live.
The first gem of an idea popped up several months before the actual realisation of the first episode and it was just a wish, a promise: "Wouldn't it be nice to have a project together?".
Both Federica which Martina They follow numerous podcasts, and the choice of theme was also straightforward, despite the fact that the two approach true crime in different ways: Martina è method e likes to plunge into the dark, Federica does so from counter-phobic and the thing he is most afraid of in the world is the serial killers.
The title of the podcast is inspired by the monologue of Ophelia's madness in Shakespeare's Hamletin which the Bouquet of Madness is described: ""There is also sense in his delirium; thoughts and remembrances conform." Laertes says, while Ophelia illustrates the flowers with which she has adorned her hair on the way to madness."
Related Eventi